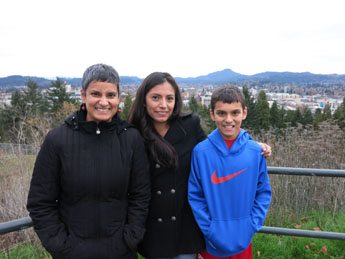 Left to right:  Host Mom Brinda Narayan-Wold, ELAW Fellow Minerva Rosette, Keb Wold.

Every year, ELAW brings many committed environmental advocates to Eugene to hone skills they need to protect communities and the environment. These Fellows work with ELAW staff attorneys and scientists, meet with local nonprofits, and take English classes at the University of Oregon's American English Institute. During evenings and weekends, ELAW Fellows want to explore Oregon and connect with community members.
That's where we need your help!
Many people in Eugene, Portland, and Seattle generously host ELAW Fellows. If you are interested in hosting ELAW Fellows -- for a meal, a day trip to the coast or Cascades, or a short home stay -- please contact jackie@elaw.org, ELAW Community Outreach Coordinator.
Please also take this short, six question survey, and we will do our best to match you with an ELAW Fellow who shares your interests.